Fire District Works to Raise Carbon Monoxide Detector Awareness in Plainfield, IL
When a tragedy strikes, sometimes people will take action, as did the Plainfield Fire District raising carbon monoxide detector awareness after a poisoning. It has been four months since a woman and her daughter died in their Plainfield, IL home due to carbon monoxide poisoning. The poisoning killed three of their pets and sickened five police officers who did a wellbeing check on the house, according to the Herald News.
In 2016, the mother and daughter who died in November were not alone. Another Plainfield resident had died earlier that year. Ever since Denise and her daughter died, there has been a movement to raise carbon monoxide detector awareness.
Before Christmas, friends of the Carlini family started a GoFundMe page to collect $7,500 to buy new carbon monoxide detectors. The page raised more than the goal, $8,400. They purchased 300 detectors and distributed them before the holidays at food drives. Ray Carlini was also vocal about not letting one other person die from carbon monoxide because they were not aware of the dangers of it.
Just a month after the November poisoning, the fire district and Kidde partnered, with Kidde donating 150 detectors to the district. Officials then identified households that needed detectors. People who need detectors installed as well as proper service and usage tips, may simply contact the Plainfield fire department. They began installing detectors in homes in February.
This kind of effort to raise carbon monoxide detector awareness is valiant. As Ray Carlini says, hopefully not one more person will suffer from carbon monoxide poisoning because they were unaware. It is colorless, odorless, and tasteless, making the detectors necessary, and it is a byproduct of the incomplete burning of coal, wood, charcoal, natural gas, fuel oil, kerosene, gasoline, fabrics and plastics. As the number one cause of poisoning deaths in the United States, carbon monoxide is a serious threat, with 430 Americans dying each year and many more being sickened. However valiant the effort for carbon monoxide detector awareness is, people need to make sure that they are buying the right kind of carbon monoxide detector. We will go into this next.
What Kind of Carbon Monoxide Detector Should I Buy For My Residence?
Last week, Consumer Reports cautioned people not to buy these three off-brand carbon monoxide detectors:
NetBoat WB_H3110061 LCD Portable Security Gas CO Carbon Poisoning Monitor (Amazon)

Foho YJ-806 LCD Portable Carbon Monoxide Poisoning Monitor Alarm (Amazon)

GoChange 882 LCD Portable Carbon Monoxide Poisoning Monitor Alarm (eBay)
When looking at laws pertaining to the requirement of carbon monoxide detectors in homes, the law usually requires a carbon monoxide detector that has been approved by Underwriter's Lab. A detector that meets the UL's carbon monoxide alarm standard (UL-2034) will carry a logo that indicates that. None of the above three carbon monoxide detectors had that logo. Consumer Reports also recommends that the carbon monoxide detector in your residence carry that UL certification.
The problems with the alarms varied. Two of them failed to go off when CO levels reached 100 ppm. The third alarm presented a different problem, where the alarm sounded too quickly. This can be considered a nuisance alarm and turned off when there is actually a problem.
Another helpful aspect of a carbon monoxide alarm is if the alarm has a digital readout. This will tell you exactly how high the levels of carbon monoxide are in the residence. Also helpful is a detector that gives the peak level, which can be helpful to first responders determining the severity of the situation. Consumer Reports also recommends placing a carbon monoxide detector on each level of the home, including the basement and near an attached garage.
An added level of protection, according to Consumer Reports, comes with having an interconnected alarm. They recommend OneLink SCO501CN. If there is carbon monoxide in the basement, the second floor alarm will sound, notifying you quickly to danger. The standalone alarm recommended by Consumer Reports is the First Alert CO615.
However, the one I personally recommend is one made by CO experts. It is expensive, but I  never travel without it. http://coexperts.com/  It is kept in my suitcase on every trip and I have several in my home and one in my office as well. I want that alarm whenever I am indoors, especially everywhere I sleep.
The alarms apparently didn't go off in the Bourbonnais LeVasseur Elementary incident last week. Certainly, alarms that alarm before the human body detects the carbon monoxide is a necessity.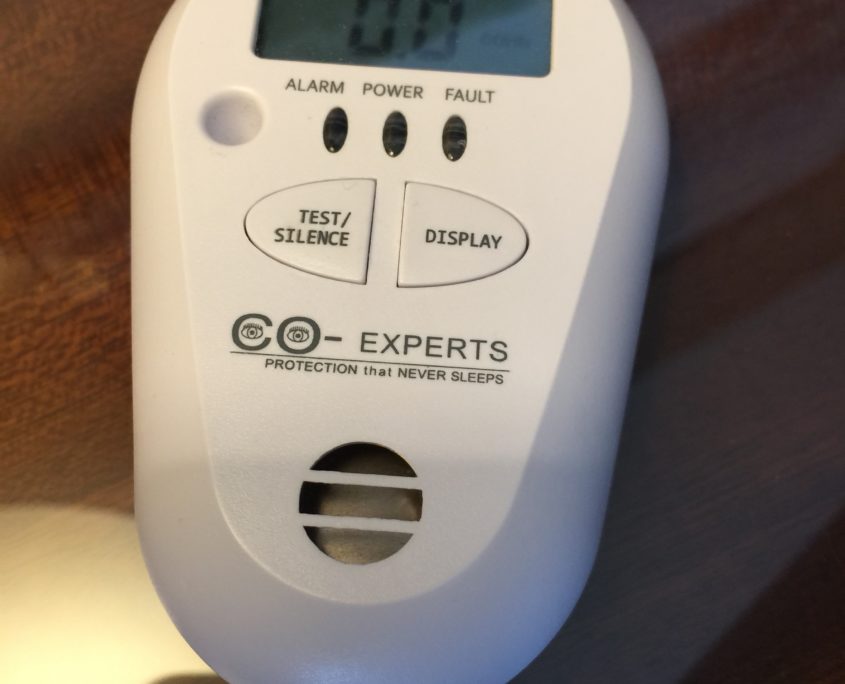 https://carbonmonoxide.com/wp-content/uploads/2017/02/co-site-logo-300x104.png
0
0
Attorney Gordon Johnson
https://carbonmonoxide.com/wp-content/uploads/2017/02/co-site-logo-300x104.png
Attorney Gordon Johnson
2017-03-20 12:44:25
2017-03-20 12:44:25
Fire District Works to Raise Carbon Monoxide Detector Awareness in Plainfield, IL